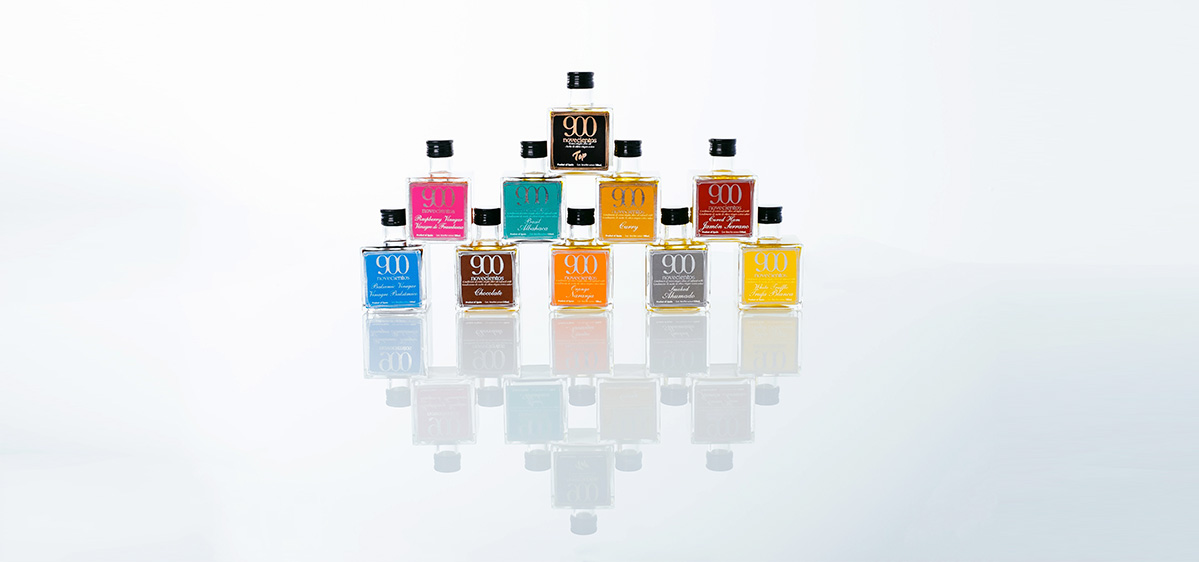 900 Flavoured
A range of different extra virgin olive oil condiments with various flavours that may surprise you, to create new sauces, for use with salads or cold dishes or to add to meat or fish. You can also use them when preparing sweets, biscuits or cakes.
Choose your favourite: mountain ham, smoked, chocolate, orange, curry, basil or white truffle.
100 millitres.
12 bottles per case.
Flavored Extra Virgin Olive Oil
A different way to taste the best EVOO, discover our range of aromatized. Ideal for those who want to make special its dishes, whether sweet or salted. 900 offers a wide range of aromas and flavors to get the most out of it. With the purporse of consume healthy EVOO and provide the dish with an additional value in originality to the palate, we show you some ideas:
900  WHITE TRUFFLE EVOO
Saute any pasta once cooked with 900 WHITE TRUFFLE EVOO. Add the other selected ingredients according to your preference, such as vegetables, aromatic herbs, pieces of fish or chicken to taste.
A simple stir-fry with onions, courgettes and carrot will be superb. If you also add slices of grilled chicken or turkey you will achieve an incredibly tasty and nutritious dish with healthy food.
You can use the 900 WHITE TRUFFLE EVOO to enhance any grilled meat or fish.
900  SMOKED EVOO
Smoking is a food preservation technique that has been used since ancient times. Cooking any meat or fish dish with smoked olive oil brings delicious results.
Although the possibilities for using 900 SMOKED EVOO are infinity with the only limit of your imagination, it is an ideal accompaniment for any grilled fish: cod, needlefish, salmon, seafood, etc.
Add aromatics herbs to taste, fresh herbs if possible, such as coriander, dill, sage or parsley. This is a simple dish that saves you time without resigning to the taste and which has a distinctive touch that makes it appetizing.
900 CURED HAM EVOO
Cured ham is one of the most valuable foods in Spain and is totally integrated into our culture, in the same way as extra virgin olive oil.
The best and healthiest way to use 900 EVOO CURED HAM is as a dressing for salads. There is no doubt that it heightens their flavour. A generous dosis of 900 EVOO CURED HAM can make breakfast toast or a sandwich not only a daily food,  if not a delight to enjoy the moment as well. Dress tomato soup (salmorejo), when ready, with this oil and some chopped boiled egg. Delicious.
900 BASIL EVOO
Basil is the principal ingredient in pesto. To create a perfect dish, season with generally 900 BASIL EVOO covering pasta. Adding this olive oil to the pan when preparing grilled dishes lends a sophisticated flavour, whether to fish or meat. Dress steamed vegetables with a dosis of 900 BASIL EVOO and accompany these with other dishes for lunch or dinner. Chopped tomatoes with fresh cheese, walnuts and this olive oil, it is a perfect and healthy dinner.
900 CURRY EVOO
Taste is an  Asian flavour, but used worldwide to season pasta and meat. Its applications are endless and you can try it with almost anything. As a traditional dish, we suggest using it with vegetable couscous, but really you can use it to dress  any of your favourite recipes.
900 ORANGE EVOO
Perhaps the most versatile of the range. It enhances the flavor of any dish, whether savoury or sweet, meat or fish. Whatever the choice of dish, 900 ORANGE EVOO brings to it a succulent, pleasurable aroma and flavour.
Orange lends a fresh flavour to oven-baked foods. If you wish to create a dessert, we suggest an orange cake as a simple solution. Use 900 ORANGE EVOO instead of other fats, and it becomes an exquisite dessert, lighter and much better for your health. You can generally use 900 ORANGE EVOO in pastry.
900 CHOCOLATE EVOO
An original breakfast: rustic bread, slices of your favourite fruit, for example orange or banana, and a helping of 900 CHOCOLATE EVOO. It might take you back to your childhood.
You can use it in the place of other fats, in cakes or biscuits. When baking it can be used to make creams or can accompany fruits such as pineapple. We also recommend using it in chicken with chocolate sauce, or to dress other chilled meats.
We would we delighted to hear of recipes you have used. Do get in touch with us and surprise us!