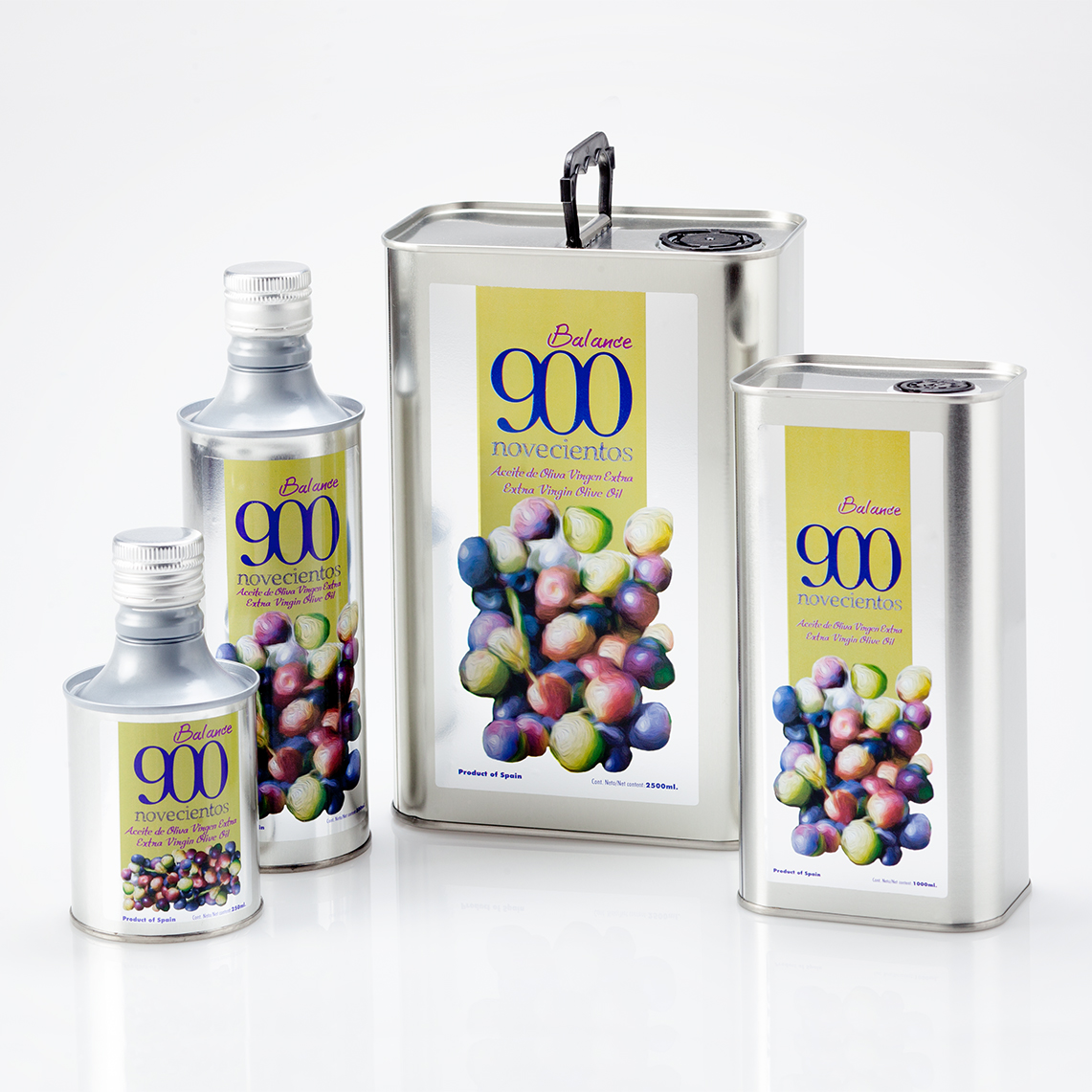 Extra Virgin Olive Oil, 900 Balance
From the southern Jaén mountains located at an average altitude of 900 meters, extra virgin olive oil 900 BALANCE is offered for which we have selected different varieties making a coupage that adapts to the most demanding palates. Besides, he price tries to find the balance just between the market value and the quality offered. With this we get a juice of high mountain picual, picuda and hojiblanca olives that give the oil a fresh flavor with the ideal point of taste, quality and price.
Formatos disponibles:
- Aluminum container of 250ml
- Aluminum container of 500ml
- Aluminum container of 1000ml
- Aluminum container of 2500ml
Extra Virgin Olive Oil, 900 BALANCE.
With the aim of offering a very good quality product with exceptional taste and reasonable price, 900 brings to market the EVOO BALANCE . It is about finding a balance in several ways.
Flavor
The monovarietal oils give us all the characteristic attributes of each variety; either the sweetness, fresh aroma of grass, tomato, fruits such as apple or banana, bitterness, spicy… This makes that depending on the type of olive and the consumer taste some oils can be not appreciated; for some because they are too sweet and others can be extremely tasty, bitter or spicy.
At Origen Novecientos we are aware of the difficulty that this can entails for the consumer when choosing an oil on the store shelf. For this reason, and with the aim of helping the client with this decision, we have developed a coupage that combines the positive attributes of several monovarietal oils, mainly picual, picuda and hojiblanca. The choice of these three types of oil is conditioned by the area in which they are produced and because once their juices have been united, the final result enhances the goodness of each one, obtaining an EVOO with a balanced and complex flavor.
The most versatile EVOO in the kitchen
With a single product in the shopping cart you can solve the olive oil consumption for most of your dishes. That is why 900 BALANCE offers a wide variety of food pairings in the raw cuisine and at the same time is perfect for cooking in hot, either for stewing or frying. Its properties will enhance the flavor of each dish and, in addition, it will makes the diet healthier and tastier.
Third, the price is one of the most decisive factors in the purchase. 900 BALANCE tries to adapt, as far as possible, high quality to the consumer's pocket. Although 900 TOP is a high-end product with which to enjoy the table; 900 BALANCE offers a wider range of uses at a fair price.
Aluminum Packaging
The packaging also contributes to the product suitability. Aluminum packaging keeps intact the positive and healthy properties of extra virgin olive oil; such as monounsaturated fats, oleic acid, flavonoids, polyphenols and natural antioxidants. We must bear in mind that olive oil is a natural product, that is, the passage of time and its exposure to light can alter its properties. That's why finding a container that protects it is paramount for us. We want to offer to the consumer a high quality product in the best conditions.
Culinary uses and pairing:
The widely recognized extra virgin olive oil health benefits make it ideal as an accompaniment and dressing of any dish, whether sophisticated or simple. In raw is indispensable with salads of vegetables or pastas, breakfasts, soups and cold "andalusian gazpachos". In hot it grows and due to its high density it does not penetrate food as much as other fats. In this way it makes them healthier and they preserve their properties better. Its high content of oleic acid and natural antioxidants make it more stable and resistant to high temperatures. It is ideal for cooking meats, fish, vegetables, pasta and in general any food.
Check our blog for more information about the benefits of consuming extra virgin olive oil.